i love this issue. it came with a map of New York including all the hot spots from the hot show. i live through the eye s of Carrie Bradshaw... although i'm not looking forward to an addition to the 1st movie - i'm obviously still going to be first in line to see it. i just wish they would leave the fans in the unknown. its nice to assume our own wishes for these 4 fierce ladies.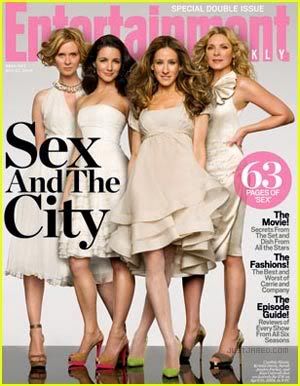 sex.
and the city.

including not only SJP and the girls but also Miss Port's version on MTV. New York. Fashion. I'm in.
traveling ...
suitcases make me smile, it means i'm not staying in one place for too much longer. i love this picture especially since i plan to buy the Eiffel tower decor item (1. because i love Paris; 2. because i want Paris in my home)
-i need to find a vintage suitcase. classic.
here are some more inspirations in my life...
rachel bilson. my style icon...in Herve Leger -
gorgeous. im currently obsessed with Herve Leger bandage dresses.
after a chance to see a friends blog; realized it was time for my spot in the wild world of blogging.
check out
goldieoldiecharms.blogspot.com
to see where the inspiration started.
inspiration
: a divine influence directly and immediately exerted upon the mind or soul (www.dictionary.com)