holy mother of toilets....
i just realized this is my 100th post and i don't even have a picture to post or anything. ........ that is unless i find one. give me a minute here...
its almost 1 AM did i add? what the hell am i doing awake right now? i have to be up early and write write write write write fmljgsjfjdfkldf. FML
ok so as my photos are uploading i will tell you a little bit about my crazy life in the past month because i do believe its been about a month since i wrote....
went to cancun, fell even more in love with mexican/spanish culture. would love to go back and just live in an all inclusive resort --- i highly recommend cancun palace to anyone traveling to cancun area. great food, great service, jacuzzi tub in the room... 24 hour room service (bad idea when drunk, take note)...
i am finishing university in less than 2 weeks... april 1st... no joke my friends! what am i gonna do with myself? will someone out there pay me to post pictures of my fabulous friends and write silly descriptions? 25cents per word? 25 dollars? wish i would have won the 41 million... that would have been a little nice; just a little.
so here are 2 pictures from my st patrick's day celebrations... was a random day/night of lines and drunk men. i pictured myself waltzing into any bar i decided on and having numerous green beers passed my way by attractive men but... toronto didn't exactly have that in store for me this year. instead i got tired from drinking at 4 in the afternoon and after two stops at pubs (foggy dew & the madison) called it a night by 11. AND had to do a presentation the next day. hmm..... at least one good thing about being done school soon is that i won't have to worry about those presentations. but i enjoy the adrenaline kick from speaking in front of people. if only i had more to say, maybe someone would pay me to say something? nah. ok here are the pictures, enough of my rambling. time to hit the HAY!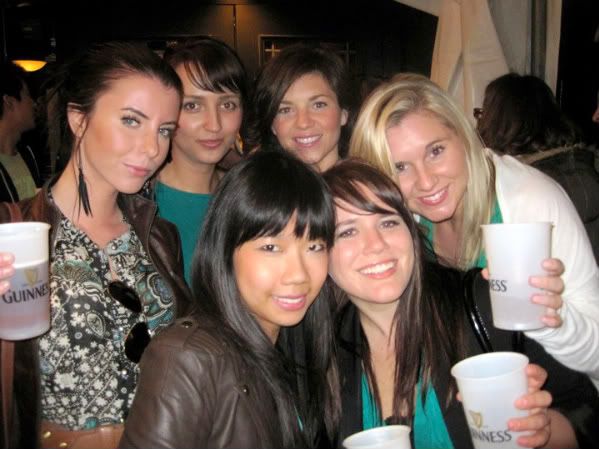 green used to be my favorite color. what's yours?