me and my friend
charmaine
from goldie-oldie went on a trek down queen street west in Toronto yesterday.... we started where queen west meets the queensway around the 1700 block. a delicious smell caught our attention and we had to stop inside
yummy stuff
. this delicious smell consisted of cupcakes and biscotti in a variety of flavors. we each got a mini cupcake (we weren't
that
hungry yet) - charms had the raspberry cupcake and i had the chocolate one. soooo delicious! definitely will be back there again despite its far distance from me.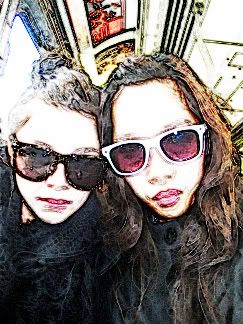 there were so many neat vintage shops including clothing stores and antique shops. we didn't stop in many antique shops though because i knew i would want to buy something and didn't have a car to bring it home with me.
i ended up scoring a long gold necklace and a burgundy long-strapped vintage clutch purse from the salvation army. (pictures coming soon!)...the necklace was 2 dollars and the purse was 5. can't complain about those prices!!
the really good stores were vintage69 and the public butter...both had exceptional pieces but they came at higher price points. we weren't sure exactly what we wanted so without a thought in mind about a distinct piece, we walked out empty handed. charms picked up a long metallic looking shirt with cross-woven stitching. she also bought an amazing Alexander Wang shirt from Holt's.
after a longggg trek down queen we finally made it back to queen & yonge where we picked up some liquor and headed back to my place to induldge in some drinks and put up our feet ...
and
wash our hands...EWW! is it just me or does vintage shopping sometimes leave you with the feeling that your hands are covered in dirt & bacteria from touching used items? as much as I love vintage clothes it still grosses me out while I'm shopping for it! ha!
check you all later :)